Sheepvention 2019
Once again Bruan Poll Dorsets attended Sheepvention , it was a 3 day event this year and the weather for a change was mild and dry. It was great to see our valued clients that stopped for a chat over the 3 days, and our rams on display attracted quite a bit of interest from stud breeders. Look forward to seeing everyone again next year.
Sheepvention 2018
Sheepvention Monday 6th August and Tuesday 7th, rams on display.
Sheepvention 2016
August 1 & 2, 2016
Sheepvention 2015 has been and gone. Following quickly is the 2016 event on August 1 & 2 at the Hamilton Showgrounds. Bruan Poll Dorsets will again be on display. Please come and visit us at site 6 in the Sheep Tech Marquee.
Sheepvention 2014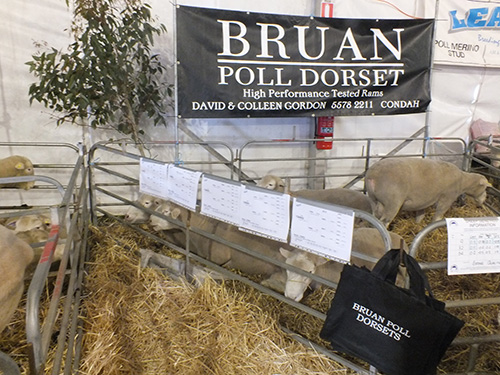 Bruan Poll dorsets were on display again at Sheepvention Hamilton in August 2014 in the Sheep Tech marquee. The Sheep Tech marquee proved to be a very busy place to be with Bruan Poll Dorsets displaying a team of stud and flock rams and where on hand to speak with clients and anyone interested in what we do at Bruan Poll Dorsets. Information on the stud along with plenty of other related data was readily available.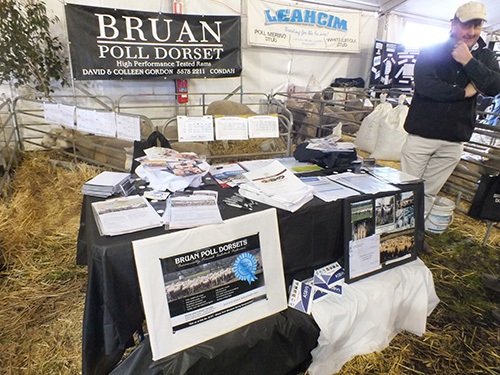 Sheepvention 2013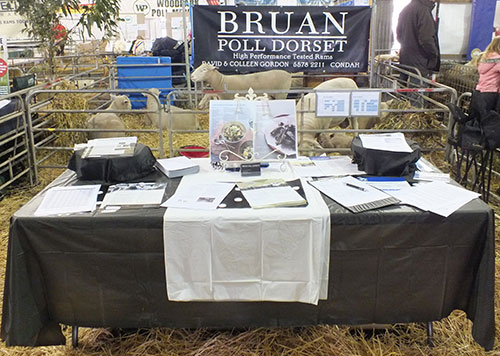 Sheepvention was held August 5th and 6th and was again a great success. Bruan Poll Dorsets displayed a site in the Sheep Tech marquee along with many other sheep studs and sheep related businesses. The many people who stopped to visit our site, looked at the rams and took home reading data, was very pleasing, along with those that stopped to just say hello and catch-up with us. We had a couple of stud rams and flock rams on display.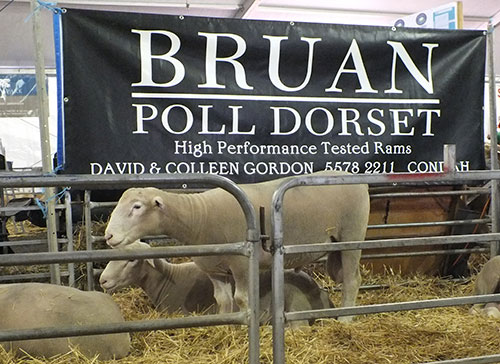 Sheepvention 2012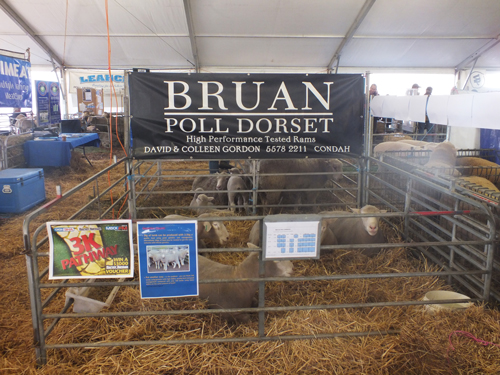 Bruan Poll Dorset's site at Sheepvention 2012 and 3rd place Pair rams Interbreed LAMBPLAN performance class.
Bruan Poll Dorsets was at site no. 17 in the Sheep Tech marquee and had rams on show in the Sheep pavilion - Poll Dorset section.
Sheepvention 2011
Bruan Poll Dorsets was at site no. 335 in the Sheep Marquee with information and rams on display. Stud rams shown in the Sheep Pavilion (Poll Dorset Section).
Sheepvention 2010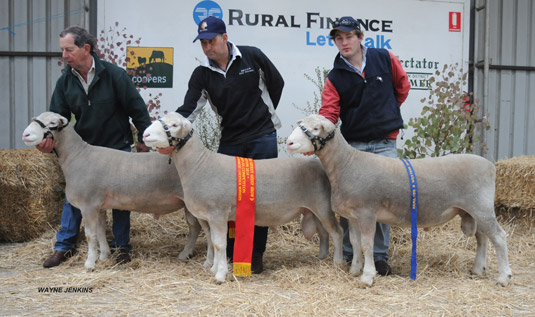 From left to right
150-09
386-09 second All Breeds LAMBPLAN Class Sheepvention 2010
116-09 first Poll Dorset Performance Class  Sheepvention 2010