Latest News
Sheep Week Tuesday 26th June 2018 Day 8, stud open all day.
Exciting new sire at Bruan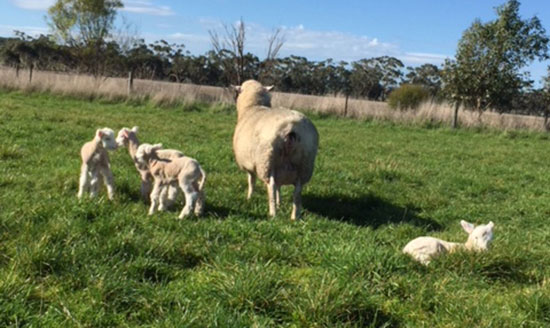 Bruan 170146 born a quad fostered as a single.
Bruan Poll Dorsets have breed an exceptional and exciting 2017 drop ram who is currently the top of his drop and number 1 on Poll Dorset Elites. 170146 has a great balance of Australian Sheep Breeding Values and eating qualitys. With performance data of BWT 0.43 WWT 11.2 PWWT 17.6 PFAT 0.3 PEMD 5.2 PFEC -29 DRESS% 4.0 LMY 5.01 IMF -0.40 SHEAR5 0.6 C+ 246 L2020 120.7 LEQ 168.8.
170146 was born a quad, fostered and reared as a single. He will be on display at Hamilton Sheepvention and on property with other exciting sires, during Sheep Week in June.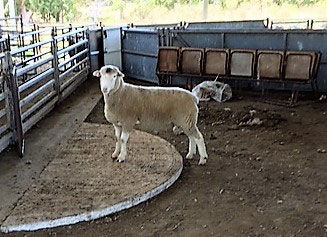 Bruan 170146 - 9 months old.
---
Meat Elite Inspects New Zealand Flocks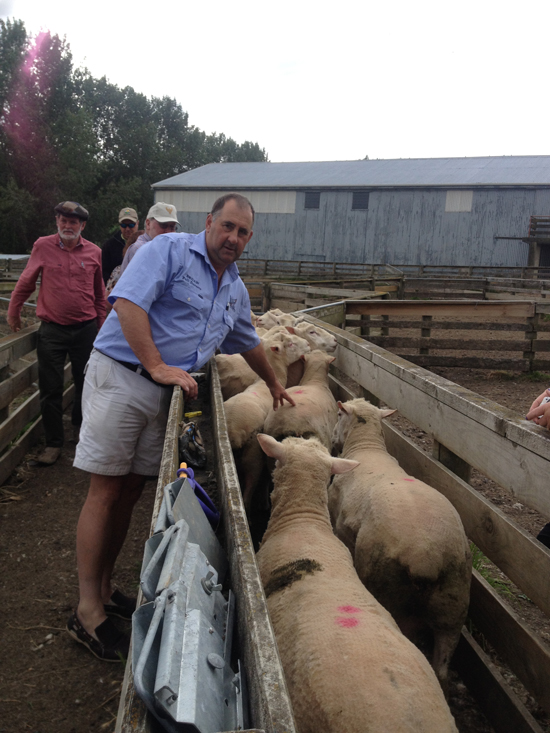 David and Colleen Gordon from Bruan Poll Dorsets, as members of Meat Elite Australia, recently attended the annual Meat Elite conference and then on to a sheep study tour of the south Island of New Zealand. After a short six day tour it was back to Melbourne for the Leading Breeders Forum, which is a biannual event run by the MLA and LAMBPLAN.
Members of Meat Elite, Australia's leading Poll Dorset progeny testing group inspected New Zealand genetics after their annual conference in Melbourne recently.
The group including local members David and Colleen Gordon of Bruan Poll Dorset Stud at Condah attending their two day conference at Tullamarine where speakers from LambPlan and Marks Inglis from JBS Australia spoke about changing consumer trends and the supply of premium tasting lamb. Meat Elite members are regarded as industry leaders in performance genetics. Ram clients across the country report excellent results from Meat Elite sired progeny.
Reflecting changing consumer trends Meat Elite members are seeking to hold or improve traditional Australian Sheep Breeding Values while focussing on eating quality through genomics testing. Each flock will have all sires, Elite Sire Team rams, and a portion of their young ewes' genomics tested to retain the superb quality of premium lamb.
Consistent with trends in New Zealand, Australian consumers are looking for smaller portion cuts of tender easy to prepare dishes. New Zealand breeders visited by ME members are also focussing on meat eating quality. To this end the McCall family at Fairlie had imported semen in ME owned sires to ensure the highest meat eating quality was available to New Zealand producers.
Wendy Campbell's property on the outskirts of Dunedin turns off approximately 9000 Poll Dorset sired lambs using Poll Dorset x Romney ewes. "We find that the Poll Dorset allows us to finish our lambs quickly with sufficient fat cover to tick all the boxes." New Zealand processors ideal lamb has a carcase weight of 17 - 18 kg. Discount penalties apply for heavier lambs. Over 80% of lamb produced is exported.
The Ohio Poll Dorset Stud operated by the Potter family, located at Gore in Southland is also focused on early finishing lambs. Sires from the Ohio Stud have made a significant contribution to the ME flocks in the past. However, quarantine restrictions now prohibit semen imports from NZ.
---
Hitting the grid.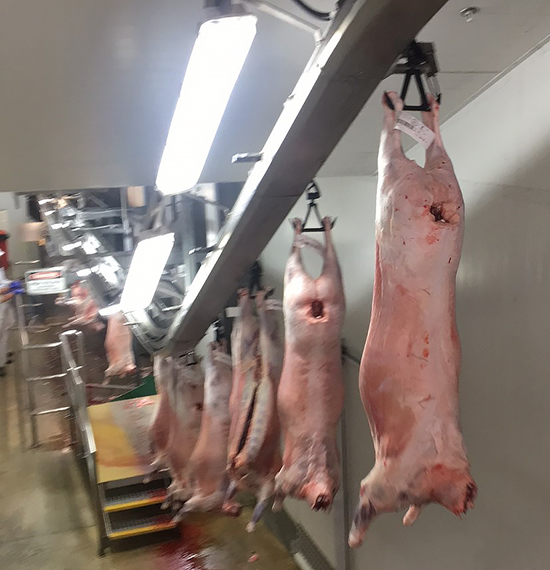 A total of 632, 16 to 17 week old second cross lambs sired by Bruan Poll Dorset rams, went over the hooks to ALC (Australian Lamb Company) averaged 25.7 kg CWT hitting the middle of the 18 to 32 kg grid with fat scores 3 and 4.
---
MEAT ELITE AUSTRALIA CONFERENCE FEBRUARY 2016
The Meat Elite Australia conference was held in Hamilton on Feb 24. As members of Meat Elite Australia, Bruan Poll Dorsets co-hosted a Forum which saw Dr. Robert Banks of the Australian Genetics & Breeding Unit, Dr Greg Johnson veterinarian from Kangaroo Island and Dr Lehmann veterinarian with expertise on ovine brucellosis speaking on their fields of expertise. An informative and enjoyable day was had by all attendees. The evening was spent at Bruan Poll Dorsets looking over their young stud stock followed with an evening BBQ.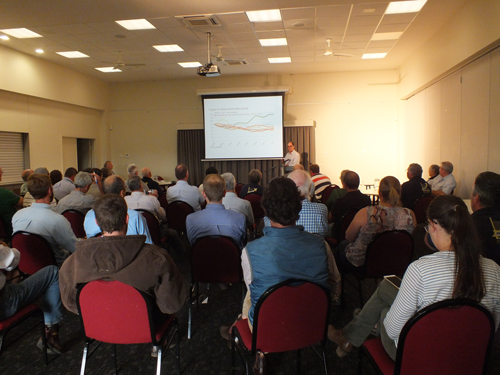 Meat Elite Australia prime lamb production Profit Drivers Forum. Dr Rob Banks -
world leader in genetics - speaking to attendees.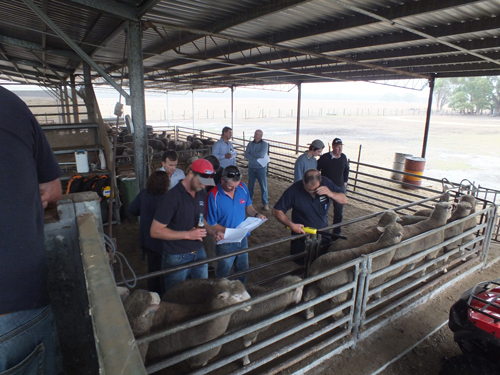 Inspecting elite ram lambs at Bruan
---
BRUAN SECURES FUTURE
David and Colleen Gordon Bruan Poll Dorset Stud of Condah have secured a possession share in the world record breaking $31000 ram from Hillcroft Farms Narrogin at the Perth Royal Show. The ram 497/13 has one of the highest combinations of growth and muscling along with extremely good eating qualities which we believe offers a lot to the prime lamb industry. 497 has extremely good carcass, is structurally correct ram with a great outlook David said. The ram will be used widely through the Meat Elite Australia group with members taking semen packages allowing his genetics to be spread across a wide variety of Poll Dorset flocks in different environments across Australia Colleen said.
497 carries with him some of the best Lambplan figures, these being WWT 11.2 PWWT 19 PFAT 0.7 PEMD 3.1 and Carcass + 225. with the purchase of this ram Bruan and Meat Elite Australia are continuing to be commercially orientated allowing our prime lamb producers to be as profitable as possible by producing top prime lamb sires for the prime lamb industry.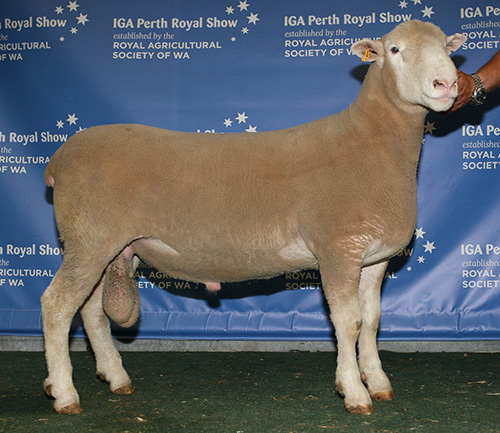 Photo courtesy Farm Weekly
---
RAM SELECT WORKSHOP 2013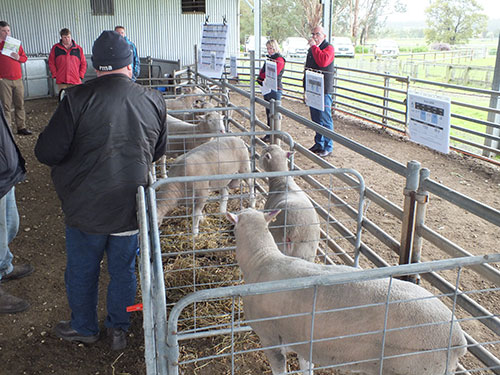 A very successful and well attended RamSelect workshop was held at Condah on the 22nd of August. Hosted by David and Colleen Gordon on the property of Bruan Poll Dorsets.
The workshop helped those that attended the day to become more confident in their ram selection and purchase ,their business breeding objectives and how to prepare for the auction or selection day. Over the 5 hours, sessions covered included understanding a breeding value and an index, valuing rams with different breeding values an overview of Sheep Genetics and visual trait assessment and ram soundness to name just a few. Overall the day was enjoyed by all, despite the very wet conditions and constant rain on the roof.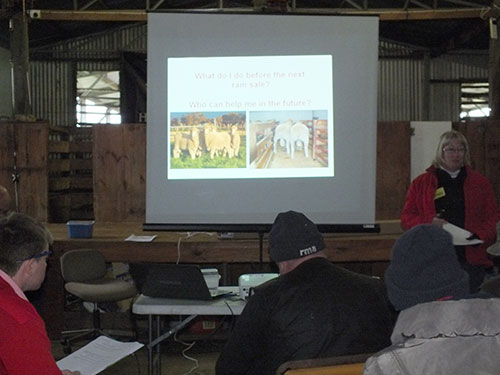 Thursday 22nd August 2013 [Download leaflet]
---
BRUAN POLL DORSETS HEAD TO LEADING BREEDER FORUM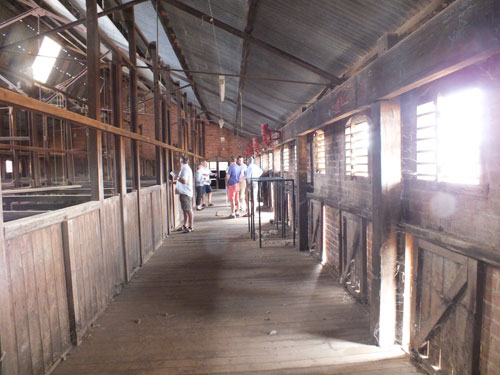 BRUAN POLL DORSETS as members of the Meat Elite Australia group took part in a Leading Breeders Forum in Bendigo recently.
The forum covered many topics, from Sheep Genetics Research and Development, Genomics: where to next, Matching rams to lambs-eating quality and yield, to name but a few.
The two day Forum was packed full of new and exciting information for the Australian Lamb Industry.
Meat Elite gave an overview on its genetic gain, the Young Sire Progeny testing program and how it is supporting the Lamb Industry research projects through genomics and meat eating quality testing.
Genomics - where are we now and where to next were presented by Dr Andrew Swan and Dr Robert Banks.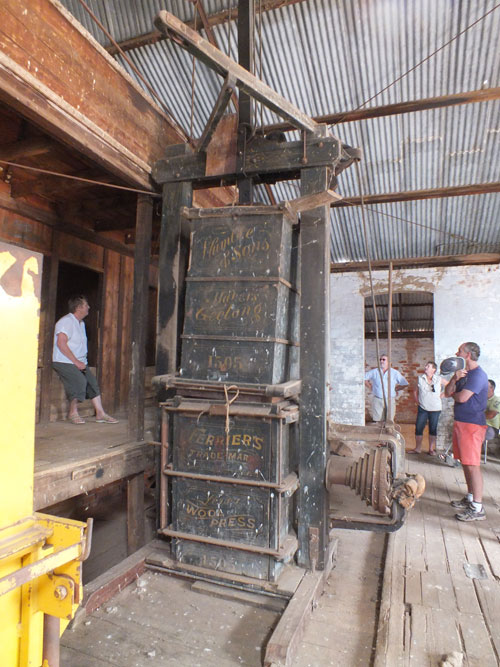 Many more topics were addressed over the two days. Dr Alex Ball spoke on balancing carcass, yield and eating quality and the industry challenge that lies ahead. The forum finished with an open discussion on The ram of the future, what's needed.
Some take home messages that David and Colleen Gordon from Bruan Poll Dorsets found were:
keep the focus on your management and records

All rams used in any breeding program must have RBV's (research breeding values)

Balance the traits without over emphasis and make sure you have links to lambs that have eating quality measurements.
The forum was followed by the annual Meat Elite Australia conference for members where many topics from the previous two days were discussed. On the journey home most members of the group stopped in at East Loddon woolshed now owned by the Hooke family. The woolshed is heritage listed and was erected in the early 1870's and used by 32 blade shearers.
---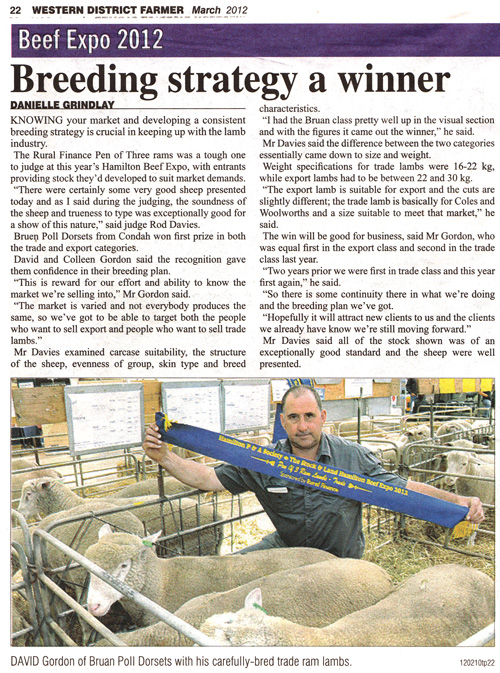 ---
BRUAN Poll Dorsets Top Ranked Sire
BRUAN Poll Dorset sire 386/09 is currently the 1st ranked sire on elites list Bruan 386/09 carcass+ 218 Lamb2020 116 Trade $ index 117. He was used in the stud as a ram lamb and currently been used in five flocks across Australia with 177 progeny.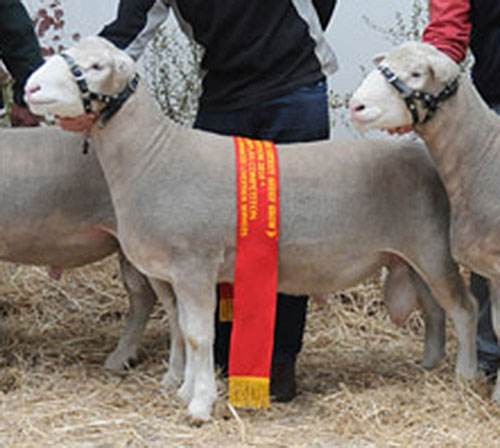 ---
Sheepvention 2011
3rd - LAMBPLAN Performance class
2nd - Pair of rams All Breeds Performance LAMBPLAN class
4th - Shorn ram class
3rd - August drop shorn ram class and a photo of our site.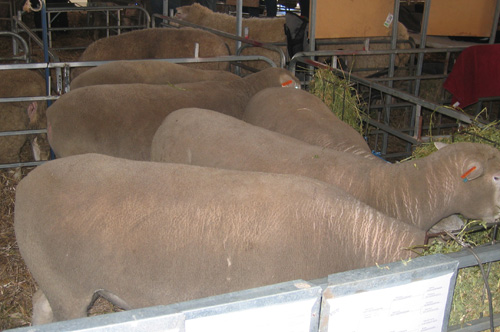 Sample of the Flock Rams on offer at 2011 Annual Sale
---
Winners of the 'pen of three ram lambs export class' at the Beef Expo 2011 - 3 years in a row!
2011 - 1st export class, 2nd and 3rd trade class
2010 - 1st export class, 1st and 3rd trade class
2009 - 1st export class, 1st and 3rd trade class